Cloud computing is one of the most important and fastest-growing future mega markets. In some segments of this market, the value will double within a few years. As it concerns the private cloud market, analysts expect that companies will invest $260 billion in this market by 2027. Therefore, it is essential for every investor to know the winner stocks for cloud computing. In this article, I will give you an overview of the market and the companies in this market. As a little bonus, I also give you a short fundamental analysis of each company.  
---
As always, the posts on the TEV blog are free for you (unlike my other works 😉 ). I would appreciate it if you could give me short feedback in the comments below or share this post if you liked it or had the opportunity to pick up some valuable thoughts.
---
Cloud Computing In A Nutshell
The cloud sector is already playing a significant role in the lives of many people. Besides, it is already generating billions in profits for companies in the market every year. So let us take a closer look at the market. In the following, I will briefly summarize the market for you and explain the most important terms.
What is cloud computing in general?
Cloud computing essentially means an IT infrastructure that you can think of as a platform. This infrastructure or platform is made available via the internet. The essential aspect, however, is that this platform is not installed locally on a computer, but is based on a computer network. You have to imagine this computer network as a combination of different technical, independent systems that can communicate with each other. Anything is conceivable in this cloud, as it enables enormous storage capacities for data and processing of this data. Users are no longer dependent on their computing power but can use the computing power of an entire network via the cloud.
This is causing existing markets to shift. At the same time, however, new ones are created.  Both create significant opportunities for companies and investors alike.
On the one hand, users can shift existing services to the cloud. Companies that transfer their business to the cloud thus also move market value to the cloud. Furthermore, companies can get new capacity without the need for new hardware or investment. This new and cheap capacity opens up new growth opportunities and the creation of market value. On the other hand, this creates an entirely new market because there must be someone who provides and maintains the IT infrastructure for cloud computing. This need for additional services, in turn, creates an entirely new market that also has a value.
Quick Crash Course On The Main Types Of Clouds
I know that it might be boring, but you should do it like Warren Buffett and not invest in things you do not understand. But if you want to invest in a great opportunity like cloud computing, it means that you have to understand the basics of this market. Therefore, as an investor, you need to know the basic types of cloud services and their provider. That said, let us first take a look at the three service models of cloud computing:
IaaS (Infrastructure as a Service)
PaaS (Platform as a Service)
SaaS (Software as a Service)
We also need to further subdivide these three service models into public, private, and hybrid cloud computing.
The individual service models differ primarily in the scope of the existing hardware and software. While with IaaS, the customer only gets "some hardware" and has to add and manage many things on his own, the other service models already include more extensive services and additional tools. The following overview will give you a first impression, but don't worry; we will take a closer look at the service models afterward.
Infrastructure as a Service (IaaS)
Infrastructure as a service primarily covers the provision of hardware. Hardware includes components such as servers, computing, and network capacities, routers, switches or firewalls, storage space. There is even a lower entry-level to cloud computing called bare-metal-as-a-service (BMaaS). BMaaS does not provide virtualized computing, storage capabilities, and networking, but only direct access to the underlying hardware. The biggest provider in this segment are:
AWS
Google
IBM
Alibaba
Oracle
SAP
Virtustream
CenturyLink
Platform as a Service (PaaS)
With Platform as a Service, customers get a platform on which they can develop, operate, and manage applications without the need for additional hardware or software. The PaaS service model is, therefore, equipped with everything necessary for the users to develop their applications. The target groups for PaaS cloud services are, therefore, developers and system architects. The individual consumer is not in the foreground. The biggest provider in this segment are:
Amazon
Microsoft
IBM/Red Hat
Salesforce
SAP
Oracle
Software as a Service (SaaS)
Software as a Service offers the complete program and is aimed primarily at end-users and less at developers. For example, Microsoft's cloud-based Office solutions and also WordPress, fall under SaaS cloud computing. The advantages for the users are apparent.
The SaaS segment offers standardized solutions that can be used independently of the operating system. The provider of a SaaS-based cloud computing model manages the hardware, software and also ensures the availability and security of both the application and the data. If an Internet connection exists, the services can be accessed from all devices. The biggest provider in this segment are:
Salesforce
Microsoft (e.g., Office 365, GitHub)
Adobe Creative Cloud
Dropbox
Google (G Suite)
Oracle
SAP
Shopify
Wix
Cisco
…
Some may see applications like Facebook or other social networks also as SaaS applications. The same applies to Netflix or YouTube. Strictly speaking, this is not correct, because these companies do not offer access to software, but access to content. It, therefore, makes more sense to use another category here (e.g., content as a service).
Private/Public/Hybrid
One last difference you need to know is whether the cloud is public, private, or hybrid. In a public cloud, public servers store the data. If the customer wants to be able to access the cloud alone, he or she must use servers for a private cloud to which access is restricted for the public. A hybrid cloud combines these two aspects. Some data is stored on public servers, and critical data remains on private servers.
Market Value
So now, you already know a lot about cloud computing. You know the essential terms and the leading players on the market. Now we finally come to the aspects that probably interest you most as an investor: Cash! And there is a lot of cash in the cloud computing market, and there will be even more in the future.
The forecasts differ somewhat, but the market value will increase dramatically in the future. For example, Gartner predicts that the market value in the IaaS and PaaS segments will double between 2018 and 2022. The SaaS area is also expected to grow strongly until 2022.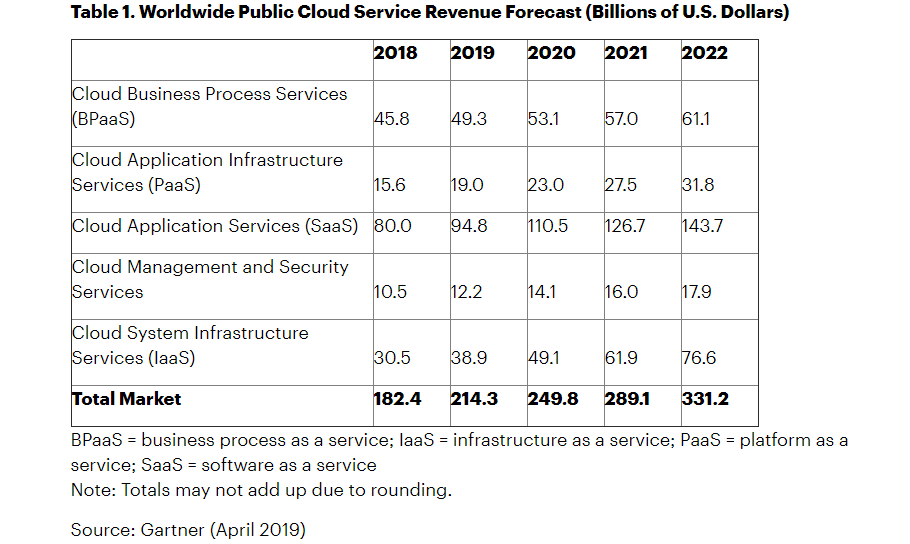 Hybrid and private cloud offerings will also only know only one direction in the future. For example, analysts expect companies will invest $260 billion in the private cloud market by 2027.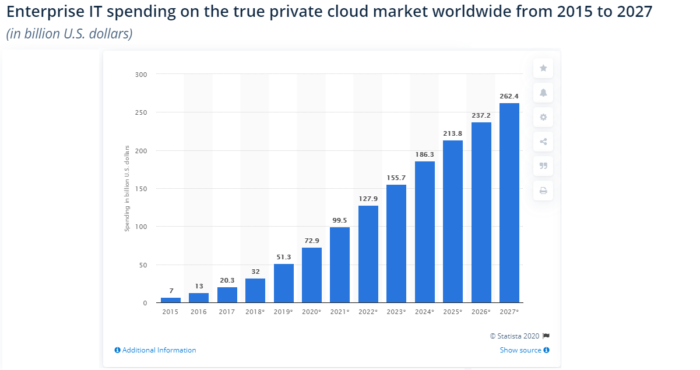 The hybrid cloud market is also expected to show double-digit growth. In this respect, you can expect growth of around 20 percent per year.
Experience with COVID-19 shows that the growth rate can even accelerate. Microsoft has already confirmed that during the third quarter of 2020, the demand for cloud products has increased.
So you can see that a mega-market is emerging here and it is growing even more in the future. If you look at SaaS applications such as Microsoft Office or Google's G Suite, you can see that cloud computing is already an elementary part of many areas of daily life. However, the importance of the market will increase in the future. If you are an investor, you will inevitably have to deal with this. We will, therefore, take a closer look at the individual companies operating in this market and analyze their fundamental valuation.
Companies In The Market
We have already seen above a lot of companies that offer their services in the individual service models of cloud computing. And also, overall, these are the most prominent players on the market, sharing the cake. However, it makes sense to list SaaS companies separately, as there are more companies, and the focus here is more on the end market (both B2B and B2C). And remember, each of these companies could be a potential investment for you:
---
Iaas/PaaS
Amazon
Google Cloud
IBM Cloud
Oracle
SAP
Alibaba
---
SaaS
Salesforce
Microsoft
Adobe Creative Cloud
Alibaba
IBM
Tencent
Dropbox
Google
Oracle
SAP
Shopify
Cisco
Wix
…
---
Due to the not always obvious demarcation (especially in the SaaS segment), the fast-moving development, and the many players, a breakdown of market shares cannot be determined precisely. However, if we look at the entire market for an initial rough estimate, the following picture emerges for cloud computing. Amazon is the leading company here. This position is primarily due to its strong position in the Iaas and PaaS sector. Next comes Microsoft as the second-largest company, followed by Google (Alphabet).
Best Winner Stocks For Cloud Computing
Now we come to the heart of the article. We will examine which stock is best suited if you want to invest in cloud computing. Since many companies are active in the SaaS area, I would like to limit the analysis to the largest companies, that are active in all these market segments. That said, I will analyze the following companies:
Amazon
Microsoft
Google
IBM
Oracle
SAP
Alibaba
Tencent
Salesforce
Note: You have to take into account that the companies are, of course, not pure cloud computing companies because some of them have extensive business areas. Therefore, it is not in your interest as an investor to only look at the cloud business of these companies. If you buy a stock, you own the entire company as co-owner. Hence, in the analysis of the individual stocks, I will mainly deal with business as the whole and only occasionally discuss the cloud business in isolation.
Fundamental Analysis
That said, I would like to orient myself a little on value investing and see how much value we get for the price of a stock. Investors like Warren Buffett consider whether the price of a share is lower (or higher) than its value. Imagine a car that someone sells for a price x. Imagine that the motor alone is worth more than the selling price. The intrinsic value is, therefore, higher than the amount paid. So if you buy the car at this price and the radio or some tires break down, it doesn't matter, because you got all these things almost "for free".  That gives you a fair amount of protection, doesn't it? That's what investors, such as Warren Buffett, call a margin of safety.
However, putting this theory into practice is not always easy. There are many different methods to find out such a margin of safety. So let's see if we can determine such a "Margin of Safety" for our cloud computing stocks.
Revenue growth
Although past growth is no guarantee that a company will continue to grow in the future, it does give a good picture of the general condition and health of a company. This picture allows a better evaluation of the following test parameters because we have to evaluate young and fastly growing companies differently than established blue chips that already have an established market position and therefore do not grow that strong.
Revenue Growth 5 Years
So let's take a look at how the companies' revenue has developed over the last five years. As you can see, there are clear winners, and they come from China. Alibaba and Tencent have been able to increase their revenues the most in the last five years. Far behind is the old dinosaur IBM, whose revenue has even decreased over the previous 5 years.
Revenue Growth 10 Years
If we look at a longer time horizon, the above picture is confirmed. In the next graph you can see that also in the last ten years Alibaba and Tencent had the most revenue growth. IBM even lost almost a quarter of its revenue in comparison.
Profitability
Companies should not only grow but also be profitable. Profitability ultimately indicates how much of the turnover remains when all other costs such as taxes, depreciation, etc. are deducted. The difference between revenue and profit is the margin. Companies should have the highest possible margin (i.e., as much profit as possible should remain from revenue).
There are several ways to calculate the margin. The decisive factor is which sizes or which expenses you take into account. Let's take a look at the three central margin metrics (gross margin, operating margin, profit margin).
Gross Profit Margin
The gross margin is an important indicator because it shows how much cash is left from revenues after a company sold their products (net sales revenue minus its cost of goods sold). In this respect, you can see that Oracle (79 %), Salesforce (75 %), and SAP (69 %) have the best gross profit margin. Amazon (26 %) has the lowest gross profit margin, but it is increasing.
Operating Margin
The operating margin shows you the percentage of operating profit as a percentage of sales. Usually, you take EBIT (Earnings before Interest and Taxes) for the operating profit. Oracle (35.4 %) also leads in terms of operating margin. But this time, Microsoft (34 %)  is in second place. Salesforce is in the last place here (2.7 %). A consistently low-profit margin indicates that a company is not profitable. However, you must also know that an isolated view is not always helpful. Amazon, for example, also has a low margin. But this is not because Amazon is not profitable, but because Amazon spends all the money it earns immediately because it wants to keep the profit as small possible.
Profit Margin
The profit margin (also called net margin) ultimately indicates how much profit remains from sales after a company has made all expenses (including dividends, share buybacks, etc.). Here too, you see a similar picture. Oracle (28 %) and Microsoft (31 %) have the best scores, while Amazon (4 %) and Salesforce (0.7 %) have the lowest profit margins.
P/E ratio
The Price/Earnings ratio (P/E ratio) tells investors the ratio of a company's share price to the company's earnings per share. This figure shows you how many years you will have to wait until you have recovered your purchase price per share with the earnings per share. So if a company has a P/E ratio of 10, it would take ten years for your profits to be as high as the price you paid for your investment. Since the P/E ratio can quickly be misleading, I will also show you a historical analysis for each company. For this, we use the 3-year median of the P/E ratio. Take your time and look at the multiples! After that, we will briefly evaluate the current P/E ratio and the 3-year median.
Current P/E ratio (forward)
P/E ratio 3-Year Median
Evaluation of the P/E ratio
It is not surprising that Amazon and Salesforce each have the highest multiples here, because these are the companies with the least profit from sales. So you should also keep in mind that Salesforce had an extremely high gross margin, so there is quite a lot of profit left over from revenues. Nor should you be tempted by IBM's low P/E ratio, which is mainly due to the fact that the company is hardly growing at all (see above also revenue growth). We can also see that all companies except Microsoft are currently trading below their 3-year median, which could indicate a slight undervaluation of these companies.
Price/Book Value ratio
The Price/Book Value ratio compares a company's current market price to its book value. A value of 1 means that the price of a share corresponds precisely to the (proportionate) book value of the company. Accordingly, a ratio below 1 is a good sign for value investors. However, such gems are rather rare to find, and if so, it is worth taking a closer look as well. For example, companies that operate in a challenging market with poor prospects (e.g., tobacco or oil) can have a particularly low price/book value. Since the Price/Book ratio can be misleading as well, I will also show you the three year median of the Price/Book Value ratio for each company.
Current Price/Book Value ratio
Price/Book Value ratio 3-Year Median
Evaluation of the Price/Book Value ratio
Concerning the Price/Book Value ratio, SAP appears to be the cheapest overall. Overall, however, the price/book value ratio of the companies is also relatively high. However, you can see that most of the companies here have been in a stable range in recent years. Nevertheless, individual companies such as Microsoft or Oracle are significantly above the 3-year median. Other companies like Salesforce, Alibaba, and IBM are far below the 3-year median.
Do We Have A Winner?
Here you see an evaluation of our little fundamental analysis. You can see that it is not so easy to identify the best winner stock for cloud computing. I am a big fan of Microsoft, but the high rating compared to the other reviews is quite remarkable. Microsoft is also among the companies that are currently more expensive than their 3-year median.
Besides, you must realize this: The cloud computing market is just beginning, and the cake will be huge. Probably all companies will benefit from it. If the high valuations put you off, you can also take advantage of the cost-average effect and simply invest regularly in two or three of the companies. Furthermore, these companies are not necessarily purely cloud companies. You automatically invest in other markets, which is not necessarily a disadvantage. From a fundamental perspective, however, you should take a closer look at Salesforce and SAP.
---
---
Did you like this article? Stay tuned for the following content… It is all entirely for free! Enjoy!
If you don't want to miss any new articles, you can easily follow me on
or Twitter.
---
---
Sharing Is Caring
Your thoughts are too valuable to keep them to yourself. Make them available to the world and the community by sharing them with us. All you have to do is leave a comment after reading the posts on the blog. Just use clear writing and clear thoughts.