If you are currently invested in Intel, you are going through a difficult time with the stock. At the end of last week, the company published the results for the second quarter of 2020. It announced that it is having problems with its in-house 7nm manufacturing process, which follows a whole series of problems and setbacks that the company has experienced. As a result, the share price slumped badly. So I think it is time for a fundamental review of the current situation. Besides, I address a few deeper aspects that you, as an investor, should also recognize.
---
---
A history of failure
Let us take a brief look at the history of Intel's setbacks in the recent past. These setbacks and disappointments concern several markets in which Intel is active or which Intel expected to be active.
Intel lost the 5G race for the mobile market
One market where Intel has completely failed is the market for 5G phone modems. The company has announced products here several times in a grand style without ever shipping a modem to any customer. It all started with the announcement of the Intel XMM 8060 5G modem.
Intel XMM 8060 5G modem
Already at the beginning of 2017 Intel announced a new 5G modem and chose very flowery words for it:
5G will enable billions of "things" to become smart through seamless connectivity, massive computing power and access to rich data and analytics stored at the edge of the cloud. In doing so, 5G will change the way we experience life in our homes, our cities and the world around us. It will erode the boundaries between the physical and digital to deliver rich new experiences and valuable new services.
This all sounded very appealing, of course, but such phrases are far from really delivering a product that can keep these promises. But Intel kept hopes alive, and by the end of 2017, the company announced some quite concrete things. In November 2017, Intel released a wireless roadmap that includes several updates and product announcements. One of them was the Intel XMM 8060 modem, which was to be the first 5G modem from Intel and was to be delivered in mid-2019.
Intel XMM 8160 5G modem
In November 2018, Intel announced the Intel XMM 8160 5G modem" "a multimode modem optimized to provide 5G connectivity to phones, PCs and broadband access gateways". Intel has promised a lot here. The modem was supposed to be smaller than an American 1-cent coin and, at the same time, promise enormous performance (six times faster than the latest LTE modems of that time). Intel initially intended to ship the first modems in the first half of 2019. But in the end, everything turned out quite differently.
The big disillusionment 2019
In 2019 came the big disillusionment when Intel had to admit a bad defeat.
We are very excited about the opportunity in 5G and the 'cloudification' of the network, but in the smartphone modem business it has become apparent that there is no clear path to profitability and positive returns
This was closely related to the settlement between Qualcomm and Apple. Both companies have settled their long-standing disputes and reached a comprehensive settlement. From one minute to another, Intel had to fear that Qualcomm would continue to supply Apple with modems and that Intel would have difficulty finding other customers. Within a short time after the agreement, Intel put its 5G smartphone modem business up for sale. Apple, which wanted to become more independent from Qualcomm and develop its own chips, took the bait.
Only several months later, Apple and Intel had signed an agreement for Apple to acquire the majority of Intel's smartphone modem business for around 1$ billion. The deal also includes the majority of Intel's employees in the division and patents. Apple will now hold more than 17,000 patents for wireless technology, both its patents and those acquired from Intel. And this is how Intel's journey into the 5G smartphone modem business ended.
Intel and the 10nm disaster
Intel had to experience another chain of many disappointments in the area of its CPU processors. The big failure began several years ago, more precisely with the announcement of processors based on a 10nm architecture.
Intel wanted to ship the first processors based on a 10nm structure as early as 2015. After Intel secretly and embarrassingly stopped the production of the Cannon Lake generation, they finally launched the new Ice Lake processor that is based on a 10nm architecture. And here, too, Intel delivers only partially. Only in the second half of 2021, Intel expects to deliver the company's first 10nm-based desktop CPU.
Intel and the 7nm disaster
The history of delays continues with the 7nm generation. Intel has now announced that the 7nm process will be ready for the market one year later than planned. The first products in the consumer sector will, therefore, not be shipped until the end of 2022 or the beginning of 2023 and thus six months later than initially anticipated. Furthermore, Intel now expects the first 7nm processors for data centers in the first half of 2023. Until then, the Tiger Lake architecture should save the business, which is, essentially, an upgraded version of the Ice Lake generation.
Intel loses more and more ground
AMD already sells the latest generation of products with its Ryzen processors that are based on a 7nm structure. Furthermore, the company plans to launch its first Zen 3 chips this year, which are based on an even better 7nm technology. But that's not all. Already next year, AMD may change the technology to 5nm. Even if AMD doesn't make it next year, the lead over Intel is gigantic. What is already clear is that we are facing a new supercycle with 7 nm processors, and it may be that the company is more or less bogged down in crumbs here, while other companies are eating the big cake (AMD in particular).
If we look at the longer-term trends, you can see that Intel is losing more and more market share to AMD in the CPU market. AMD has already caught up with Intel in the desktop market. Only in the server market, Intel is still far ahead. But one reason is that GPUs are now favored in the server market.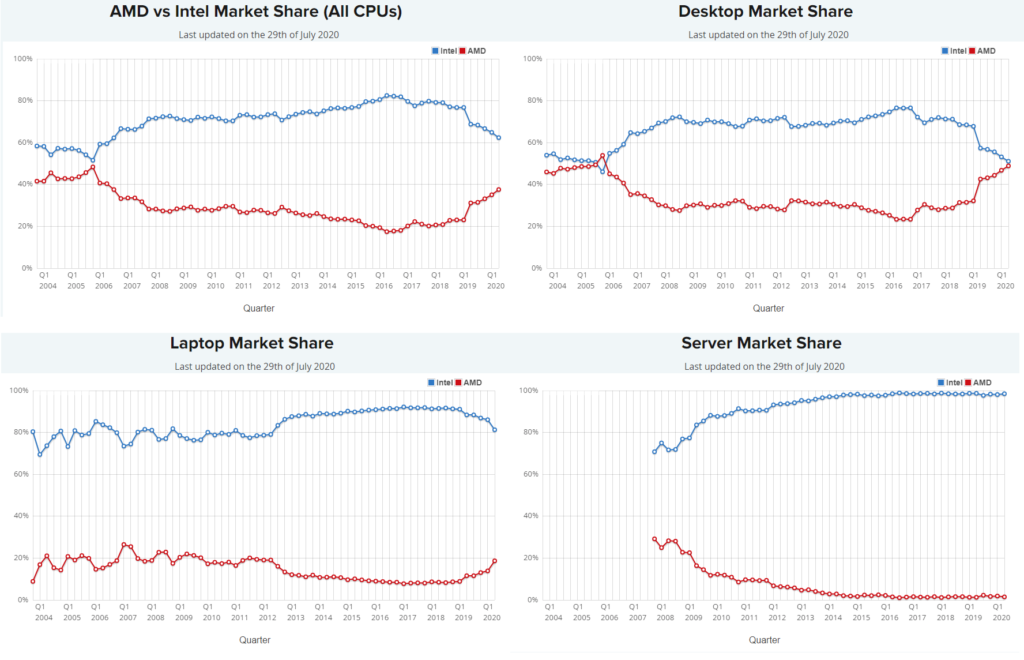 What are we supposed to think about the company and the Intel stock?
For Intel investors, many questions naturally arise after these setbacks. It is already a disappointment what Intel has delivered here again. The stock market plummeted, and rightly so. But I don't think it's all as bad as it looks. Investors can also learn something that could help them in the future. So, let us take a closer look at the individual aspects.
Intel stock still has a few things to offer
The first point is that you should not just measure Intel's success by the metrics 10nm, 7nm, and 5nm. Of course, a technical lead is important. But the decisive factor is the view of the customers. In case of doubt, customers may attach importance to the reliability and performance of the products and not if it is the latest architecture. Maybe it doesn't matter if a chip is based on 7nm or an improved 10nm architecture.
When it comes to the operative performance, it is also not as if Intel is doing poorly at the moment. Don't forget that Intel rushes from one record quarter to the next.
Besides, Intel is more than just a manufacturer of CPUs. Even if the share of total sales is still tiny, you should especially keep an eye on Intel's Mobileye division. Mobileye offers a broad portfolio for autonomous driving and now has market shares of 70 percent. This business could become extremely important for Intel. The company expects the value of the automotive driving-related market to be around 10 billion US dollars by 2023. Mobileye is already shipping out more and more chips with an impressive CAGR of 46 percent.
My thesis: management had the wrong priorities
The problem, therefore, is that the many setbacks may cause Intel to lose market share unnecessarily and thus unnecessarily lose sales and profits to its competitors, which is, of course, unfortunate and disappointing for investors in Intel stock. I also have a theory for one of the many causes of this development. In my opinion, Intel should have spent more money to buy the necessary know-how to catch up with the technical backlog, which applies to both the 5G mobile phone market and the 7nm chips. You might say that's too expensive. Intel's debt ratio of 46 percent is not exorbitantly high, but more debt is, of course, not necessarily the better option. And debts aren't my point here. My point is that Intel has foolishly repurchased its shares instead of investing the money in growth (by which I mean research and development).
I think management has focused too much on glossing over earnings per share; and the company succeeded in doing so, as you can see very clearly from the chart below.
In the long term, however, it would probably have made more sense to use the money for growth purposes. Now, AMD is leading the race for the latest technology and is stealing more and more market share.
The lessons that investors can learn
Investors can learn something here. Profit development is not always decisive. Of course, I am a great friend of profitability. Nothing is more welcome to me in the world of finance than rising cash flow, increasing profits, and growing dividends. I do not buy shares to be able to sell them to another idiot but to keep them and benefit from the excellent business models of my companies. Warren Buffett is so right:
But, sometimes, you have to take the first step before the second, and that includes accepting less profit or loss in case of doubt to be able to grow even stronger in the future. So if investors are always looking at increasing earnings per share, they must also pay close attention to where these profits come from. Make sure that the profits are not boosted by playing with numbers or buying back shares. Also look at other measures like cash flow, margins, and revenue growth. The fundamental analysis of equities is very complex and can quickly lead astray.
Long-term investors may find some value in the Intel stock
Conversely, the disappointment on the stock markets about Intel may have led to a favorable purchasing opportunity for long-term investors. If we look at the last ten years and take the historical cash flow and earnings figures as a benchmark, these historic multiples indicate an undervaluation. The price/adj. Earnings ratio is also in single digits, which is low for a growing tech company. The market seems to have already priced in quite a bit.
Conclusion
Intel has simply failed in many places. The reasons for this are probably manifold (as so often). Nevertheless, the management must ask itself whether it hasn't set the wrong priorities in some cases. In particular, excessive share buybacks may have been contra-productive. Investors can certainly learn something from this: short-term profit growth at the expense of long-term success can backfire.
However, this should not hide the fact that Intel is still a growing company that is operating successfully in the market. It is currently just not as successful as its competitors. I can well imagine putting the first shares into my broadly diversified retirement portfolio shortly but I would feel a little more comfortable with prices below $45 a share.
---
–> Click here for more analysis <–
---
If you enjoyed this article and wish to receive other long-term investment proposals or updates on my latest portfolio research, you can easily follow me on
or Twitter.
---
---
Sharing Is Caring
Your thoughts are too valuable to keep them to yourself. Make them available to the world and the community by sharing them with us. All you have to do is leave a comment after reading the posts on the blog. Just use clear writing and clear thoughts.