Hello, my dears. Welcome to a new overview of upcoming ex-dividend dates and dividend ideas here on the TEV Blog. Like every week, I want to show you some stocks that will go ex-dividend in the next days. I'll also review a few companies currently in investors' focus or that have an attractive fundamental valuation. Additionally, I'll give you some insights into my retirement portfolio and/or share my thoughts and experiences about individual companies with you. This week, L3Harries Technologies and 3M are going ex-dividend and worth a closer look. As always, you will also find other stocks listed in a table.
Why yields are a simple way to screen companies
Dividends are a great thing. Even in bad stock market times, they provide a juicy cash flow per month. If you want to benefit from dividend payments as quickly as possible, you must pay attention to the ex-dividend dates. This date is the day on which shares are traded without their subsequent dividend value. Only if you owned the stocks on this day are you entitled to receive the dividend.
Usually, there are always exciting dividend companies that are worth a second look. And the dividend yield is an excellent way to get an initial overview of companies that may be worth further due diligence. To help you get started, at the end of each week, I will publish the ex-dividend dates for the coming week of individual companies here in the TEV blog.
Why I handpick and double-check the upcoming ex-dividend dates next week
I have recently noticed that many databases do not indicate the respective numbers and dates correctly. Spontaneous dividend cuts, in particular, are only partially taken into account, or in some cases, not at all. As a result, the value of such overviews dwindles enormously.
Therefore, I've decided to select individual companies by hand and check the dates and dividend yields on the companies' websites, which means more work for me but increases this section's value enormously, so it is worth it 🙂
Because I've been asked about it by some of the readers: I don't decide my investments based on whether a company goes ex-dividend or not. This overview is simply a way to screen companies regularly. By double-checking the current dividend yields, I scan companies' business development more or less once a quarter and see if anything significant has changed. In the end, however, comprehensive due diligence always decides whether I invest or not.
Ex-Dividend Calendar
As always, you'll find some handpicked exciting ex-dividend dates below.
| Company | Payout Date | Yield | In my retirement portfolio |
| --- | --- | --- | --- |
| Monday, November 16, 2020 | | | |
| Coca-Cola European Partners Plc (CCE) | December 01, 2020 | 10.00% | NO |
| Phillips 66 (PSX) | December 01, 2020 | 6.56% | NO |
| Tuesday, November 17, 2020 | | | |
| Aflac (AFL) | December 01, 2020 | 2.78% | NO |
| Chevron Corp (CVX) | December 10, 2020 | 6.40% | NO |
| Consolidated Edison Inc. (ED) | December 15, 2020 | 3.80% | NO |
| Eastern Company (EML) | December 15, 2020 | 2.09% | NO |
| Equinix (EQIX) | December 09, 2020 | 1.40% | NO |
| Powell Industries Inc. (POWL) | December 16, 2020 | 4.05% | NO |
| Target Corp. (TGT) | December 10, 2020 | 1.71% | NO |
| Wednesday, November 18, 2020 | | | |
| Archer-Daniels-Midland Co. (ADM) | December 10, 2020 | 2.92% | YES |
| Applied Materials Inc. (AMAT) | December 10, 2020 | 1.26% | NO |
| Littelfuse Inc. (LFUS) | December 03, 2020 | 0.88% | NO |
| Microsoft Corp. (MSFT) | December 10, 2020 | 1.04% | NO |
| Nielsen Holdings Plc (NLSN) | December 03, 2020 | 1.62% | NO |
| Skyworks Solutions (SWKS) | December 10, 2020 | 1.42% | NO |
| Thomson Reuters Corp. (TRI) | December 15, 2020 | 1.82% | NO |
| Walgreens Boots Alliance Inc.(WBA) | December 11, 2020 | 4.59% | NO |
| Yara International (YARIY) | December 04, 2020 | 8.59% | NO |
| Thursday, November 19, 2020 | | | |
| 3M (MMM) | December 12, 2020 | 3.50% | YES |
| American Software Inc.(AMSWA) | December 04, 2020 | 2.71% | NO |
| Barrett Business Services Inc. (BBSI) | December 04, 2020 | 1.71% | NO |
| Crawford & Co. (CRD) | December 04, 2020 | 2.66% | NO |
| Cummins (CMI) | December 03, 2020 | 2.32% | NO |
| Gladstone Capital (GLAD) | November 30, 2020 | 9.59% | NO |
| The Hershey Co. (HSY) | December 15, 2020 | 2.09% | NO |
| L3harris Technologies (LHX) | December 04, 2020 | 1.80% | NO |
| Microchip Technology Inc. (MCHP) | December 04, 2020 | 1.20% | NO |
| Magna International Inc. (MGA) | December 04, 2020 | 2.75% | NO |
| Moog Inc.(MOG) | December 07, 2020 | 1.41% | NO |
| Otis Worldwide Corp. (OTIS) | December 10, 2020 | 1.21% | NO |
| Snap-On Inc. (SNAP) | December 10, 2020 | 2.94% | YES |
| Whirlpool Corp. (WHR) | December 15, 2020 | 2.72% | NO |
| Friday, November 20, 2020 | | | |
| Moody's Corp. (MCO) | December 14, 2020 | 0.81% | NO |
| Ryder System Inc.(R) | December 18, 2020 | 4.16% | NO |
| Tractor Supply Company (TSCO) | December 08, 2020 | 1.22% | NO |
Have you ever heard of L3Harris Technologies?
L3Harris Technologies Inc. was formed by the merger of L3 Technologies and Harris Corporation. With a market capitalization of USD 41.8 billion, it is much smaller than, for example, Lockheed Martin (USD 105 billion) and rather on a par with General Dynamics (USD 43.4 billion).
The company's portfolio provides communications and information technologies in the defense and aerospace markets. The main customers are governments and other companies. Its portfolio includes radio communications technologies, electronic system solutions for defense systems in the military, space and aviation sectors, radar systems for weather stations, IT services, and hardware and software applications for broadcasting stations. In all of these areas, the company offers not only products but also technical support and in-house training.
Good balance sheet
But for you, as an investor, this does not have to be negative. Fundamentally, the company looks attractive. It has a debt ratio of only 42.28 percent and only USD 15.706 billion total debt (including all liabilities) on its balance sheet. After payment of the dividend, L3Harris Technologies has USD 2.4 billion per year left to address debt. Considering that the big merger between L3 Technologies and Harris Corporation was not until 2018 and that such mergers always result in very high integration costs, the merger has gone through quite nicely.
Fair value calculation L3Harries Technologies
Currently, L3Harries Technologies is slightly overvalued based on profits and cash flows. However, if you consider the expected cash flows and earnings for the next two years, the result is an undervaluation and an upside potential of 16.2 percent. The annual yield of 7.8 percent is thus roughly at the level of the broad market.
Analysts expect a substantial increase in cash flows and profits in the coming years. The PE ratio should, therefore, fall from just under 30 to 15.5. and adj. PE ratio is even expected to fall from just under 17 to 13. L3Harries Technologies is thus not a bargain but offers interested investors an attractive entry opportunity from a value perspective.
L3Harries Technologies dividend scoreboard
Dividend hunters also get their money's worth. Overall, the company (taking the merger into account) has increased its dividend for 19 years. The payout ratio of less than 30 percent is excellent and leaves enough room for further increases.
While the current 1.75 percent yield is not outstanding, those who remain invested in the long term may achieve a yield of cost of 2.5 to 3 percent in the coming years. The company has been increasing dividends at an impressive rate in recent years.
1 Year growth rate: 18.47 percent
5 Year growth rate: 10.03 percent
10 Year growth rate: 13.07 percent.
Also, profits and cash flows are expected to increase substantially in the coming years, giving management enough room for generosity.
Conclusion
You can't have all stocks, and I am not the biggest fan of defense companies (even if they are essential and worthwhile). I bought a lot of General Dynamics shares during the Corona crash. That's enough for me for now from this sector. Nevertheless, I believe that L3Harris Technologies could be a stable investment for investors that is definitely worth further due diligence.
3M is going ex-dividend and back on my repurchase list
I also noticed that I should add more 3M shares to my existing stake. 3M is also going ex-dividend this week. It has been a while since my last purchase. I will take the opportunity to take a closer look at the company again. I will publish an extra analysis on Seeking Alpha.
3M is one of my rather poorly performing investments. At best, the company runs sideways, but to be honest, it has been on a downward trend since the beginning of 2018. Does that make it a lousy stock at all? We will see that in the next 10, 20, or 30 years. But in a broadly diversified portfolio, 3M is a company that certainly deserves its justification. Years of poor performance do not bother me. That's part of the business.
Those who bought 2000 shares worth USD 1000 are now sitting at USD 3039.42. At 7.1 percent a year, this is not an Apple, Amazon, or Microsoft gain. However, it is stable, and it is still over 300 percent, even though the company has been performing poorly for several years (in 2018, the return was even 440 percent).
Besides, the share has reached a node at which all historical multiples are pointing to a fair value. For the next few years, the upside potential is even 20.4 percent, and the annual yield is just under 10 percent. These are great figures. Accordingly, I am about to put a few more shares into my portfolio.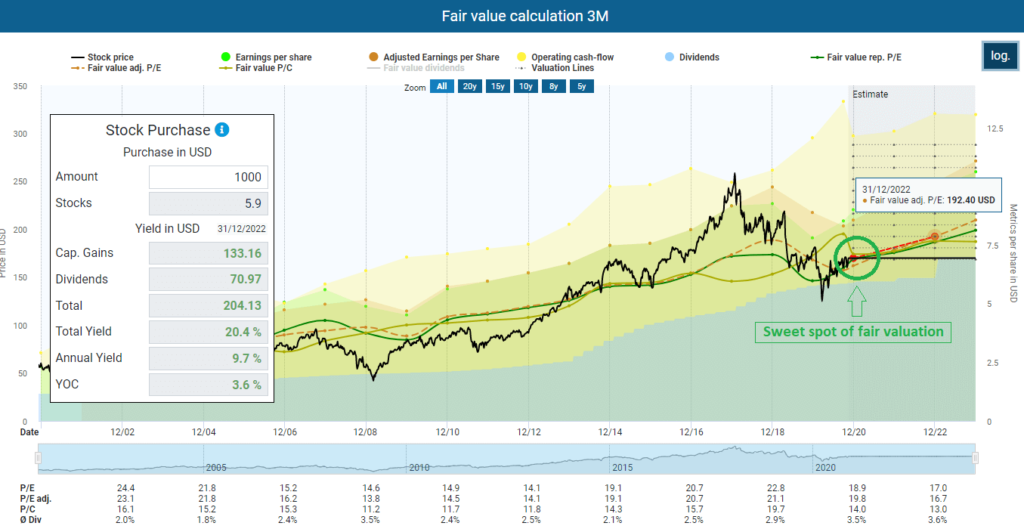 Time to do your due diligence
Has a company caught your interest? Attractive dividend yields should not be the only reason to buy shares of a company. Instead, you must carry out careful due diligence before every purchase. The Internet offers you excellent opportunities in this respect.
My analyses here on the TEV Blog are an excellent way to start (click here). You can also contact me here or ask the community in the comments if they can help with your due diligence.
Otherwise, I use tools like those from DividendStocks.Cash and Seeking Alpha to do further research. You can also find me and my analyses on these platforms. We also have a small but lovely group on Facebook that you can join. We share there only fundamental analyses of companies from various sources. So there is no spamming or anything like that.
---
---
If you don't want to miss any new articles, you can easily follow me on
or Twitter.
---
Sharing Is Caring
Your thoughts are too valuable to keep them to yourself. Make them available to the world and the community by sharing them with us. All you have to do is leave a comment after reading the posts on the blog. Just use clear writing and clear thoughts.
That said, feel free to let us know if I have overlooked an attractive stock or you know of a stock that is particularly attractive and where the ex-dividend date is coming up.
Is a stock here attractive for you? If so, let the community also know and write a comment.
---
You can also share this post with your favorite network: