Hello, my dears. Welcome to a new overview of upcoming ex-dividend dates and dividend ideas here on the TEV Blog. Like every week, I want to show you some stocks that will go ex-dividend in the next days. I'll also review a few companies currently in investors' focus or that have an attractive fundamental valuation. Additionally, I'll give you some insights into my retirement portfolio and/or share my thoughts and experiences about individual companies with you. This week we take a look at the strikingly high dividend from Tredegar. The reason for this is that Tredegar pays a special dividend to its shareholders.
Why yields are a simple way to screen companies
Dividends are a great thing. Even in bad stock market times, they provide a juicy cash flow per month. If you want to benefit from dividend payments as quickly as possible, you must pay attention to the ex-dividend dates. This date is the day on which shares are traded without their subsequent dividend value. Only if you owned the stocks on this day are you entitled to receive the dividend.
Usually, there are always exciting dividend companies that are worth a second look. And the dividend yield is an excellent way to get an initial overview of companies that may be worth further due diligence. To help you get started, at the end of each week, I will publish the ex-dividend dates for the coming week of individual companies here in the TEV blog.
Why I handpick and double-check the upcoming ex-dividend dates next week
I have recently noticed that many databases do not indicate the respective numbers and dates correctly. Spontaneous dividend cuts, in particular, are only partially taken into account, or in some cases, not at all. As a result, the value of such overviews dwindles enormously.
Therefore, I've decided to select individual companies by hand and check the dates and dividend yields on the companies' websites, which means more work for me but increases this section's value enormously, so it is worth it 🙂
Because I've been asked about it by some of the readers: I don't decide my investments based on the question of whether a company goes ex-dividend or not. This overview is simply a way to screen companies regularly. By double-checking the current dividend yields, I scan companies' business development more or less once a quarter and see if anything significant has changed. In the end, however, comprehensive due diligence always decides whether I invest or not.
Ex-Dividend Calendar
As always, you'll find some handpicked, exciting ex-dividend dates below.
| Company | Payout Date | Yield | In my retirement portfolio |
| --- | --- | --- | --- |
| Monday, December 07, 2020 | | | |
| Citrix Systems Inc. (CTXS) | December 22, 2020 | 1.10% | NO |
| First American Financial Corp. (FAF) | December 15, 2020 | 3.82% | NO |
| Parsley Energy (PE) | December 18, 2020 | 1.59% | NO |
| Tuesday, December 08, 2020 | | | |
| Ameren Corp. (AEE) | December 31, 2020 | 2.62% | NO |
| CAI International Inc. (CAI) | December 24, 2020 | 3.12% | NO |
| Kimco Realty Corp. (KIM) | December 23, 2020 | 4.24% | NO |
| Canadian National Railway Co. (CNI) | December 30, 2020 | 1.61% | NO |
| Farmers Merchants (FMCB) | January 01, 2021 | 2.07% | NO |
| Hewlett Packard Enterprise Company (HPE) | January 06, 2021 | 4.17% | NO |
| HP Inc (HPQ) | January 06, 2021 | 3.56% | NO |
| Lam Research (LRCX) | January 01, 2021 | 1.09% | NO |
| Wednesday, December 09, 2020 | | | |
| American Assets (AAT) | December 24, 2021 | 3.37% | NO |
| Becton Dickinson And Company (BDX) | December 31, 2020 | 1.37% | NO |
| Kontoor Brands (KTB) | December 18, 2020 | 3.76% | YES |
| Occidental Petroleum (OXY) | January 15, 2021 | 0.25% | NO |
| PPL (PPL) | January 10, 2021 | 5.82% | NO |
| Public Service Enterprise Group (PEG) | December 31, 2020 | 3.40% | NO |
| Rogers Communications (RCI) | January 04, 2021 | 3.23% | NO |
| Travelers Companies (TRV) | January 31, 2021 | 2.54% | NO |
| VF (VFC) | December 21, 2020 | 2.29% | YES |
| Thursday, December 10, 2020 | | | |
| Automatic Data Processing Inc. (ADP) | January 01, 2021 | 2.17% | YES |
| Albemarle Corp. (ALB) | January 04, 2021 | 1.14% | NO |
| China Waters Affairs Group (CWAFF) | January 29, 2021 | 4.90% | NO |
| Crown Crafts Inc. (CRWS) | December 31, 2020 | 4.10% | NO |
| CTS (CTS) | January 15, 2021 | 0.52% | NO |
| Dick's Sporting Goods (DKS) | December 29, 2020 | 2.18% | NO |
| Newmont Corp. (NEM) | December 28, 2020 | 2.67% | NO |
| Popular Inc. (BPOP) | January 04, 2021 | 3.18% | NO |
| Tredegar (TG) | December 18, 2020 | 27.70% | NO |
| Walmart Inc. (WMT) | January 04, 2021 | 1.44% | NO |
| The Williams Cos. Inc. (WMB) | December 28, 2020 | 7.39% | NO |
| Friday, December 11, 2020 | | | |
| American International Group Inc. (AIG) | December 28, 2020 | 3.22% | NO |
| Community Bank System Inc. (CBU) | January 11, 2021 | 2.62% | NO |
| FedEx Corp. (FDX) | January 01, 2021 | 0.89% | NO |
| Fidelity National Information Services (FIS) | December 28, 2020 | 0.94% | NO |
| Marten Transport Ltd. (MRTN) | December 28, 2020 | 0.94% | NO |
This week, the stress of moving has taken its toll. Nevertheless, I am glad that I managed to create a table with ex-dividend data.
Tredegar offers a 27 percent dividend yield
The high dividend from Tredegar is striking.
Tredegar pays a special dividend
Tredegar pays a special dividend. The company announced in early December that it will pay out USD 5.97 per share to its shareholders. The payout date is 18 December. Ex-dividend day of Tredegar is 10 December. Based on the current share price of USD 22.53, the payout of USD 5.97 represents a dividend yield of over 25 percent. The following is what Tredegar's CEO John Steitz says about the Tredegar ex-dividend:
"The Special Dividend is a direct result of our strong cash generation that resulted in cash in excess of debt of USD 28 million at September 30, 2020, which increased further at the end of October with the closing on the sale of our Personal Care business for estimated net proceeds (after transaction costs, purchase price adjustments and transition services) of USD 45 to USD 50 million."
About Tredegar
Who is Tredegar? Tredegar is active in producing plastics and manufactures films made of polyester or aluminum, for example. The company was founded in 1988 and is has its headquarter in Richmond, VA. Tredegar operates its business through the following divisions:
PE films,
Flexible Packaging Films,
and aluminum Extrusions.
The PE Films segment produces plastic films, rubber tapes, and laminates for personal care materials, surface protection films, and specialty and optical lighting applications.
The Flexible Packaging Films segment produces polyester-based films for packaging applications.
The Aluminum Extrusions segment produces soft alloy and medium-strength aluminum extrusions mainly for the construction, automotive, consumer goods, machinery and equipment, electrical, and distribution sectors.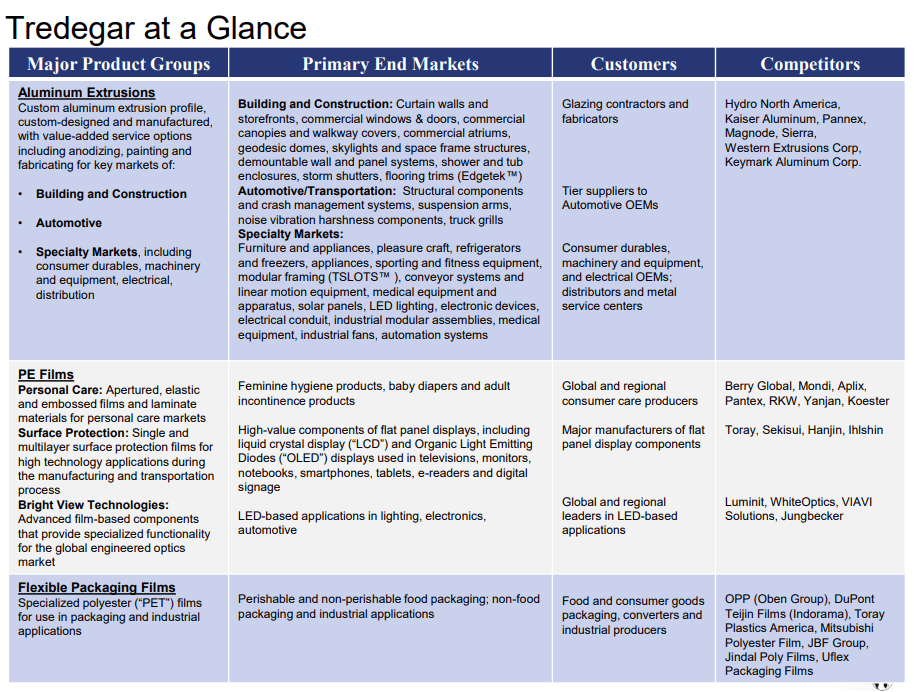 What will happen on the ex-dividend date?
On December 10, the share price will probably fall by 25 percent, which is because the investors who buy shares at that time will no longer be entitled to the dividend, and the share will therefore be worth 25 percent less.
It would have been great if you had bought the stock at the end of November since, on the day the company announced its special dividend, the share price rose by over 25 percent.
So if you buy Tredegar only for the dividend, you will get very little because the loss of the exchange rate will offset the amount paid out.
Is Tredegar a good investment?
I hardly know the company. It seems to me to operate in a very competitive and highly fragmented market. It is also highly dependent on economic cycles. For example, net sales in the Aluminum Extrusions division in the first nine months of 2020 were USD 115,621 million. The company generated almost USD 340 million in the same period a year earlier, which is a considerable drop.
Conversely, the company has an excellent balance sheet. Assets of more than USD 567 million are twice as much as total liabilities inclusive debts of USD 278,331 million. Thereof USD 35 million are cash and cash equivalents. While Tredegar has debt (all under its revolving credit agreement) of only USD 7.0 million, I would consider the company as very healthy.
Stick to the strategy
The company is worth a second look. Nevertheless, you should be careful not to continually throw your strategy overboard just because you see an exciting investment opportunity, which also has something to do with opportunity costs. You don't have to know and analyze ten thousand companies. It is sufficient if you have 50 companies that bring you the return you want. Charlie Munger has summarized this thought nicely:
Charlie Munger:

I would argue that one filter that's useful in investing is the simple idea of opportunity cost. If you have one opportunity that you already have available in large quantity and you like it better than 98 of the other things you see, well, you can just screen out the other 98 percent because you already know something better.

So those people who have a lot of opportunities tend to make better investments than people that don't have a lot of opportunities and people who have very good opportunities and using a concept of opportunity costs they can make better decisions about what to buy. With this attitude, you get a concentrated portfolio which we don't mind.
Accordingly, I do not believe that Tredegar has such a good risk/reward profile that I absolutely must invest now. But we will see; maybe I will find the time in the new year to take a closer look at Tredegar.
Time to do your due diligence
Has a company caught your interest? Attractive dividend yields should not be the only reason to buy shares of a company. Instead, you must carry out careful due diligence before every purchase. The Internet offers you excellent opportunities in this respect.
My analyses here on the TEV Blog are an excellent way to start (click here). You can also contact me here or ask the community in the comments if they can help with your due diligence.
Otherwise, I use tools like those from DividendStocks.Cash and Seeking Alpha to do further research. You can also find me and my analyses on these platforms. We also have a small but lovely group on Facebook that you can join. We share there only fundamental analyses of companies from various sources. So there is no spamming or anything like that.
---
---
If you don't want to miss any new articles, you can easily follow me on
or Twitter.
---
Sharing Is Caring
Your thoughts are too valuable to keep them to yourself. Make them available to the world and the community by sharing them with us. All you have to do is leave a comment after reading the posts on the blog. Just use clear writing and clear thoughts.
That said, feel free to let us know if I have overlooked an attractive stock or you know of a stock that is particularly attractive and where the ex-dividend date is coming up.
Is a stock here attractive for you? If so, let the community also know and write a comment.
---
You can also share this post with your favorite network: