Hello, my dears, welcome to a new overview of upcoming ex-dividend dates and dividend ideas. Like every week, I want to show you some stocks that will go ex-dividend in the next days. I'll also review a few companies that are currently in the focus of investors or that have an attractive fundamental valuation. Additionally, I'll give you some insights into my retirement portfolio and/or share my thoughts and experiences about individual companies with you.
Why yields are a simple way to screen companies
Dividends are a great thing. Even in bad stock market times, they provide a juicy cash flow per month. If you want to benefit from dividend payments as quickly as possible, you must pay attention to the ex-dividend dates. This date is the day on which shares are traded without their subsequent dividend value. Only if you owned the stocks on this day are you entitled to receive the dividend.
Usually, there are always exciting dividend companies that are worth a second look. And the dividend yield is an excellent way to get an initial overview of companies that may be worth further due diligence. To help you get started, at the end of each week, I will publish the ex-dividend dates for the coming week of individual companies here in the TEV blog.
Why I handpick and double-check the upcoming ex-dividend dates next week
I have recently noticed that many databases do not indicate the respective numbers and dates correctly. Spontaneous dividend cuts, in particular, are only partially taken into account, or in some cases, not at all. As a result, the value of such overviews dwindles enormously.
Therefore, I've decided to select individual companies by hand and check the dates and dividend yields on the companies' websites, which means more work for me but increases the value of this section enormously, so it is worth it 🙂
Because I've been asked about it by some of the readers: I don't, of course, decide my investments based on whether a company goes ex-dividend or not. This overview is simply a way to screen companies regularly. By double-checking the current dividend yields, I scan the business development of companies more or less once a quarter and see if anything significant has changed in the companies. In the end, however, comprehensive due diligence always decides whether I invest or not.
Ex-Dividend Dates (38th calendar week)
As always, you'll find some handpicked exciting ex-dividend dates below.
| Company | Payment Date | Yield | In my retirement portfolio |
| --- | --- | --- | --- |
| Monday, September 14, 2020 | | | |
| Altria (MO) | October 09, 2020 | 7.8% | YES |
| Americas Home 4 Rent (AMH) | September 30, 2020 | 0.68% | NO |
| Best Buy Co. Inc. (BBY) | October 06, 2020 | 2% | NO |
| Chesapeake Utilities Corp. (CPK) | October 05, 2020 | 2.2% | NO |
| Crown Castle (CCI) | September 30, 2020 | 3% | NO |
| Digital Realty Trust Inc. (DLR) | September 30, 2020 | 3% | NO |
| Domino's Pizza (DPZ) | September 30, 2020 | 0.8% | NO |
| Ecolab Inc. (ECL) | October 15, 2020 | 0.93% | NO |
| Farmland Partners Inc. (FPI) | October 15, 2020 | 3% | NO |
| Garmin (GRMN) | September 30, 2020 | 2.4% | NO |
| Gilead Sciences Inc. (GILD) | September 29, 2020 | 4.2% | NO |
| Iron Mountain Inc. (IRM) | October 02, 2020 | 8.2% | YES |
| The Coca-Cola Co. (KO) | October 01, 2020 | 3.27% | NO |
| Leggett & Platt Inc. (LEG) | October 15, 2020 | 3.7% | YES |
| Motorola Solutions Inc. (MSI) | October 15, 2020 | 1.67% | NO |
| Merck & Co. (MRK) | October 07, 2020 | 2.87% | NO |
| Public Storage (PSA) | September 30, 2020 | 3.7% | NO |
| Thermo Fisher Scientific (TMO) | October 15, 2020 | 0.2% | NO |
| T. Rowe Price Group Inc. (TROW) | September 29, 2020 | 2.8% | NO |
| ViacomCBS Inc. (VIAC) | October 01, 2020 | 3.3% | NO |
| Tuesday, September 15, 2020 | | | |
| Global Water Resources Inc. (GWRS) | September 30, 2020 | 2.56% | NO |
| Vistra Corp. (VST) | September 30, 2020 | 2.9% | NO |
| Cincinnati Financial (CINF) | October 15, 2020 | 3% | NO |
| Wednesday, September 16, 2020 | | | |
| Prologis Inc. (PLD) | September 30, 2020 | 2.3% | NO |
| Aaron's Inc. (AAN) | October 06, 2020 | 0.3% | NO |
| Thursday, September 17, 2020 | | | |
| Advance Auto Parts Inc. (AAP) | October 02, 2020 | 0.65% | NO |
| ADT (ADT) | October 02, 2020 | 1.3% | NO |
| Chubb Ltd. (CB) | October 09, 2020 | 2.5% | NO |
| Restaurants Brands Int. (QSR) | October 02, 2020 | 3.7% | NO |
| Taiwan Semiconductor Manufacturing Company Ltd. (TSM) | October 15, 2020 | 2.1% | NO |
| Friday, September 18, 2020 | | | |
| Logitech (LOGI) | September 22, 2020 | 1.3% | YES |
| Tiffany & Co. (TIF) | October 13, 2020 | 2% | NO |
| Washington REIT (WRE) | October 05, 2020 | 5.7% | NO |
Tiffany and LVMH merger: No deal now?
There is war in paradise. It looks like the French fashion giant LVMH does not want to take over the jewelry specialists Tiffany, after all. LVMH wanted to put USD 16 billion on the table for Tiffany. Now both parties are bitterly arguing. For example, Tiffany has already announced that it will sue LVMH for the impending bursting of the deal and will enforce the takeover in court. LVMH, in turn, also intends to file a lawsuit. The reason is Tiffany's allegedly poor pandemic management. Thus, Tiffany did not fulfill the conditions of the acquisition in LVMH's eyes. Even the French government is involved in the dispute. The majority owner of LVMH, Bernard Arnault, wanted the French government to pretend that it was to blame for the failed merger.
Who knows what's right here. In any case, Tiffany was a very, very expensive diamond for JVMH, which has become even more costly since the Corona crisis. You can easily see that from the massive overvaluation of Tiffany. Although the company was often undervalued, this was mostly due to special effects. Based on the adjusted profit, the share price was mainly close to fair value. But now things are massively different.
I think that Tiffany is a good company. The appeal of the brand is simply enormous. Anyone who has ever seen the glow in a woman's eyes, in which a Tiffany diamond is reflected, knows what I mean. At the current price, however, I wouldn't want to put shares in my portfolio.
Logitech
A second Swiss company that goes ex-dividend is Logitech. Most people know or have used Logitech mice or keyboards. The company operates in a single operating segment, but its products participate in five large markets: creativity & productivity, gaming, video collaboration, music, and smart home. As with Garmin, the portfolio is extremely diversified:
Creativity & Productivity: Pointing devices, keyboards, pc webcams, tablet & other accessories
Gaming: Keyboard, mice, headsets, controller
Video Collaboration: Best-in-class video conferencing systems, controller
Music: Mobile & wifi speakers, pc speakers, pc headsets, in-ear headphones, wireless audio wearables for sport and active lifestyles, microphones
Smart Home: Advanced home entertainment controllers, lighting, thermostats, door locks, home security cameras.
Logitech's brands:
Logitech
Logitech G
Astro Gaming
Streamlabs
Ultimate Ears
Jaybird
Blue Microphones.
The success of the company is strongly linked to Logitech's CEO, Bracken Darrell. Bracken Darell has been with Logitech for eight years. Previously, he was a board member of Harvard Business School, President of Whirlpool Corporation, President of Braun (Procter & Gamble), and a manager in General Manager. I am a big fan of Bracken Darrell. He has a vision of products. At Procter & Gamble, he learned how important brand design is. He has adopted this attitude to Logitech. Since then, Logitech has won design awards after design awards. If you look at the products, you might see what I mean. Logitech manages to make things as banal as a keyboard aesthetically pleasing, which is a tremendous competitive advantage for everyday products.
The success of this strategy is also reflected in the operational business development. Not only has Logitech massively increased profits over the last five years, but sales have also increased by almost 50 percent.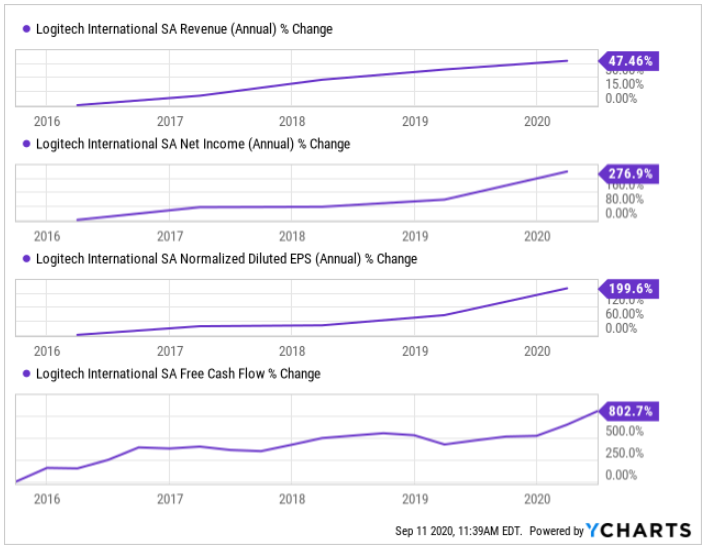 If you look at the markets in which we are active (gaming, videoconferencing, computers), I can imagine that the growth will continue. However, Logitech also has a lot of competitors (Razer, Corsair, Cisco, Jabra, Sonos, Amazon's Echo, Bose, Philips, Belkin, etc.). It must, therefore continue to be innovative and develop convincing products.
Over the years, Logitech has also developed into a dividend gem. Since 2015, it has been paying a dividend and has increased its payout every year. While the distribution in 2015 was still 0.26 CHF per share, it is now already 0.8 CHF per share, which means that the dividend has more than tripled within five years. But beware. This is essentially due to a doubling in 2016. After that, Logitech has "only" increased the payout by 10 percent each year. With a payout ratio of 32 percent, the company still has sufficient potential for further increases. In fact, the company only distributes 26 percent of its cash flow to shareholders. Unfortunately, the dividend yield for new investors is historically low at 1.3 percent.
Another disadvantage for new investors is the extreme overvaluation based on historical cash flow and earnings multiples. There were definitely cheaper ways to invest in Logitech. Conversely, who knows how well the company is doing? Maybe we'll say in two years that today would have been a good entry opportunity.
Merck & Companies and the Merck Group: Who is who? 
Finally, let's take a brief look at Merck & Companies. Do not confuse Merck & Companies with the German Merck Group. The Merck Group was a former Merck & Companies subsidiary but was eventually confiscated under the Trading with the Enemy Act of 1917 after the World War I. With a dividend yield of almost 3 percent and a payout ratio of only 42 percent, Merck & Companies is a quite exciting dividend stock in the health care sector. Merck & Companies is also one of the few undervalued companies in the current market environment.
Both revenues and profits are expected to increase this year. The company also has an excellent balance sheet and a debt ratio of only 42 percent. Furthermore, it is sitting on treasury shares worth USD 56 billion, which is offset by debts, including all liabilities of USD 62 billion. I have not done a lot of due diligence at Merck & Companies so far. But I will change that shortly.
Time to do your due diligence
Has a company caught your interest? Attractive dividend yields should not be the only reason to buy shares of a company. Instead, you must carry out careful due diligence before every purchase. The Internet offers you excellent opportunities in this respect.
My analyses here on the TEV Blog are an excellent way to start (click here). You can also contact me here or ask the community in the comments if they can help with your due diligence.
Otherwise, I use tools like those from Dividendstocks.cash and Seeking Alpha to do further research. You can also find me and my analyses on these platforms. We also have a small but lovely group on Facebook that you can join. We share there only fundamental analyses of companies from various sources. So there is no spamming or anything like that.
---
---
If you don't want to miss any new articles, you can easily follow me on
or Twitter.
---
Sharing Is Caring
Your thoughts are too valuable to keep them to yourself. Make them available to the world and the community by sharing them with us. All you have to do is leave a comment after reading the posts on the blog. Just use clear writing and clear thoughts.
That said, feel free to let us know if I have overlooked an attractive stock or you know of a stock that is particularly attractive and where the ex-dividend date is coming up.
Is a stock here attractive for you? If so, let the community also know and write a comment.
---
You can also share this post with your favorite network: