The TEV Blog is a project and a hobby. I do not run it for business reasons. As far as it concerns the stock analyses published on the TEV Blog, I have to add the following disclaimer: My posts represent my opinion only and in no way constitute professional investment advice. It is the responsibility of the reader to conduct their due diligence and seek investment advice from a licensed professional before making any investment decisions.
Responsible according to § 5 TMG: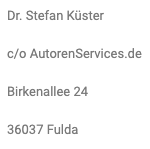 Contact:
Email: info@theeuropeanview.com
Responsible for the content according to § 55 Abs. 2 RStV:
Liability
Liability for Content
The contents of our pages were created with the greatest care. However, we cannot guarantee that the contents are correct, complete, and up-to-date. We make every effort to keep the information on our Web site current, but accept no liability whatsoever for the content provided. According to §7 par. 1 of TMG (German Tele-Media Act), the law limits our responsibility as a service provider to our content on these Web pages.
According to §§ 8 to 10 TMG, we are not obliged to monitor transmitted or stored information from third parties or to investigate circumstances that indicate illegal activity. Obligations to remove or block the use of information according to general laws remain unaffected by this. However, liability in this respect is only possible from the time of knowledge of a concrete infringement. If we become aware of any such legal violations, we will remove the content in question immediately.
Liability for Links
Our site contains links to third-party Web sites. We have no influence whatsoever on the information on these Web sites and accept no guaranty for its correctness. The content of such third-party sites is the responsibility of the respective owners/providers.
At the time third-party Web sites were linked to ours, we found no grounds whatsoever of any likely contravention of the law. We shall promptly delete a link upon becoming aware that it violates the law. However, a permanent control of the contents of the linked pages is not reasonable without concrete evidence of a violation of the law. If we become aware of any infringements, we will remove such links immediately.
Copyrights
The copyright laws of Germany govern the content and works provided on these Web pages. Duplication, processing, distribution, or any form of commercialization of such material beyond the scope of the copyright law shall require the prior written consent of its respective author or creator. Insofar as the operator did not create the content on this site, the copyrights of third parties are observed. In particular, third-party content is identified as such. With regard to the images used on the blog, the operator has licenses expressly granted to him. These also include commercial use. Should you nevertheless become aware of copyright infringement, please inform us accordingly. If we become aware of any infringements, we will remove such contents immediately.