Welcome to a new overview of upcoming ex-dividend dates. Like every week, I want to show you some stocks that will go ex-dividend in the next days. I'll also review a few companies that are currently in the focus of investors or that have an attractive fundamental valuation. Additionally, I'll give you some insights into my retirement portfolio and/or share my thoughts and experiences about individual companies with you.
Why yields are a simple way to screen companies
Dividends are a great thing. Even in bad stock market times, they provide a juicy cash flow per month. If you want to benefit from dividend payments as quickly as possible, you must pay attention to the ex-dividend dates. This date is the day on which shares are traded without their subsequent dividend value. Only if you owned the stocks on this day are you entitled to receive the dividend.
Usually, there are always exciting dividend companies that are worth a second look. And the dividend yield is an excellent way to get an initial overview of companies that may be worth further due diligence. To help you get started, at the end of each week, I will publish the ex-dividend dates for the coming week of individual companies here in the TEV blog.
Why I handpick and double-check the upcoming ex-dividend dates
I have recently noticed that many databases do not indicate the respective numbers and dates correctly. Spontaneous dividend cuts, in particular, are only partially taken into account, or in some cases, not at all. As a result, the value of such overviews dwindles enormously.
Therefore, I've decided to select individual companies by hand and check the dates and dividend yields on the company websites, which means more work for me but increases the value of this section enormously, so it is worth it 🙂
Who Is Going Ex-Dividend Next Week (32th calendar week)?
As always, you'll find some handpicked exciting ex-dividend dates below.
| Company | Payment Date | Yield | In my retirement portfolio |
| --- | --- | --- | --- |
| Monday, August 03, 2020 | | | |
| Bank of Montreal (BMO) | August 26, 2020 | 5.52% | NO |
| Valero Energy Corp. (VLO) | September 09, 2020 | 6.57% | NO |
| 1st Source (SRCE) | August 14, 2020 | 3.27% | NO |
| Conagra Brands (CAG) | September 03, 2020 | 2.26% | NO |
| Tuesday, August 04, 2020 | | | |
| Brown & Brown (BRO) | August 12, 2020 | 0.76% | NO |
| Employers Holdings (EIG) | September 19, 2020 | 3% | NO |
| Idacorp (IDA) | August 31, 2020 | 2.83% | NO |
| Wednesday, August 05, 2020 | | | |
| NextEra Energy Partners, LP (NEP) | August 14, 2020 | 3.6% | NO |
| Thursday, August 06, 2020 | | | |
| Intel (INTC) | September 01, 2020 | 2.75% | NO |
| Unilever (UL) | September 09, 2020 | 2.92% | YES |
| Wells Fargo (WFC) | September 01, 2020 | 1.5% | NO |
| Rio Tinto (RIO) | September 17, 2020 | 6.1% | NO |
| TD Ameritrade Holding (AMTD) | August 21, 2020 | 3.37% | NO |
| Magellan Midstream Partners (MMP) | August 14, 2020 | 9.7% | NO |
| Starbucks (SBUX) | August 21, 2020 | 2.12% | NO |
| Friday, August 07, 2020 | | | |
| Apple (AAPL) | August 13, 2020 | 0.72% | YES |
| American Electric Power (AEP) | September 10, 2020 | 3.3% | NO |
| IBM (IBM) | September 10, 2020 | 5.2% | YES |
| Sonoco Products (SON) | September 10, 2020 | 3.17% | NO |
| W.W. Grainger (GWW) | September 10, 2020 | 1.8% | NO |
| | | | |
| PPG Industries Inc. (PPG) | September 11, 2020 | 1.96% | NO |
| Investors Bancorp Inc. (ISBC) | August 25, 2020 | 5.47% | NO |
What's interesting this week?
This week two companies from my broadly diversified retirement portfolio are going ex-dividend. I really think that there will never be a week in which none of my companies will appear in the list.
Once you make a list like this every week, you really start to see what passive income means
It's really freaky. Once you make a list like this every week, you really start to see what passive income means. I don't have to do anything. My companies do everything for me. Without lifting a finger, IBM has to pay me a juicy dividend, just because I will hold IBM shares on Friday, August 7.
I just recently put some new IBM shares into my portfolio
And guess what. I just recently put some new IBM shares into my portfolio. The effect of this is that the next payout in September will be even bigger. The whole thing cost me two minutes and I will benefit from it every quarter for the rest of my life. What a great cost/benefit ratio. One could even calculate it so nicely that I only had to pay two of the 3 shares I bought. For the third share, I only reinvested earlier IBM dividends (of course a very simplified calculation). In my July TEV Report, which I will publish at the beginning of the first week of August, you will find some more information about why I bought the company.
---
If you don't want to miss the new TEV Report or any other new articles or analysis, you can easily follow me on
or Twitter.
---
What else is there to report? Well, I think it could be quite bumpy in August. There are some downside factors that could weigh on the equity markets. For example, the number of corona cases is rising sharply, and Donald Trump's announcement that he might postpone the elections could also create some uncertainty. In my opinion, there is a lot of shaky money in the market that could quickly go up in smoke if a lot of people push towards the exit. Does this change my investment policy? Not really. I continue to focus on financially strong and established companies. After every crisis and recession comes an upswing and this time it will be the same.
If there is another crash in the stock markets, I will buy all the more excellent companies. I did that in the COVID-19 crash and I'll do it again. And maybe I will even get one or two solid companies again at a reasonable price.
The nasty dividend cut at Wells Fargo 
Wells Fargo slipped into deep losses in the second quarter due to the Corona crisis. As a result, the bank increased its reserves for rotten loans to 9.5 billion dollars. At the same time, the dividend for the third quarter is to be reduced to $0.1 per share, which is a heavy 80.4% decrease from the prior dividend of $0.51. This is the first cut since 2009 when the bank cut the dividend from $0.34 to $0.05 cents per quarter. So far, Wells Fargo's competitors JPMorgan Chase & Co, Citigroup, Bank of America, Goldman Sachs Group, and Morgan Stanley intend to maintain their dividend.
I feel sorry for all investors who rely on the cash flow coming from Wells Fargo. This is a pretty big cut, but economically probably the right move. Due to the loan-loss reserves, Wells Fargo reported a net loss of $2.38 billion. Revenue was down 18 percent too.
Why I invest in ETFs to get my stakes in financials
I'm not invested in Wells Fargo, respectively, I don't hold any bank stocks directly. Nevertheless, from an investor's perspective, I am a fan of the sector. A high degree of regulation creates market entry barriers. In addition, the banking industry is one of the oldest and will probably never die out.
My problem is simply that I have never dealt with the sector with detailed due diligence and have no real knowledge of it.  In such cases, stock-picking is similar to a lottery. To solve this problem, I simply invest in an ETF to cover the sector. For this purpose, I have chosen an ETF whose benchmark is the MSCI USA Financials Index. The current dividend yield is roughly 3 percent. All securities in the index are classified in the Financials sector as per the Global Industry Classification Standard. This enables me to cover several complex industries of which I have little knowledge.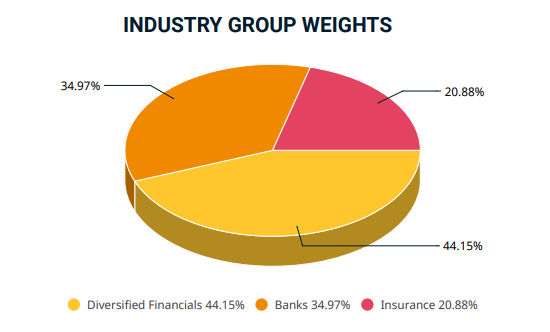 This means I am broadly diversified and deeply invested in the sector. So the top 10 positions are all companies of which I do not own any individual shares and in which I would probably never have invested otherwise.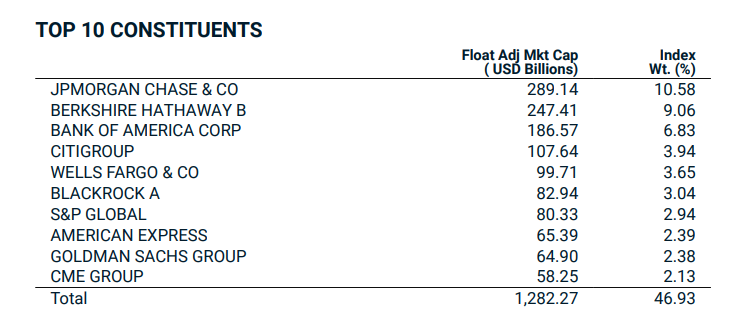 Time to do your due diligence
Has a company caught your interest? Attractive dividend yields should not be the only reason to buy shares of a company. Instead, you must carry out careful due diligence before every purchase. The Internet offers you excellent opportunities in this respect.
My analyses here on the TEV Blog are an excellent way to start (click here). You can also contact me here or ask the community in the comments if they can help with your due diligence.
Otherwise, I use tools like those from Dividendstocks.cash and Seeking Alpha to do further research. You can also find me and my analyses on these platforms. We also have a small but lovely group on Facebook that you can join. We share there only fundamental analyses of companies from various sources. So there is no spamming or anything like that.
---
---
If you don't want to miss any new articles, you can easily follow me on
or Twitter.
---
Sharing Is Caring
Your thoughts are too valuable to keep them to yourself. Make them available to the world and the community by sharing them with us. All you have to do is leave a comment after reading the posts on the blog. Just use clear writing and clear thoughts.
That said, feel free to let us know if I have overlooked an attractive stock or you know of a stock that is particularly attractive and where the ex-dividend date is coming up.
Is a stock here attractive for you? If so, let the community also know and write a comment.
---
You can also share this post with your favorite network: