The one or the other stock may have suffered losses again today. While one might think that this is normal, some investors are losing their nerve. But panic is entirely wrong now. I will explain in the article what you should do instead. 
---
As always, the posts on the TEV blog are free for you (unlike my other works 😉 ). Nevertheless, I would appreciate it if you could give me short feedback in the comments below or share this post if you liked it or had the opportunity to pick up some valuable thoughts.
---
There are several waves
Several waves have already hit the stock markets and will continue to do so. The virus itself was just one wave, and a wave of shutdowns followed it. In any case, there will be a wave of bankruptcies. This wave will affect both private consumers and companies such as airlines, tourism companies, restaurant operators, and organizers of live events. Companies such as Vapiano or Intelsat are only isolated examples and harbingers of possibly much worse distortions. To what extent this will affect the stock markets given the billions of state aid, nobody can know, of course, but there were and are indications that there will be several more waves of losses on the stock markets.
There were signs of further stock losses
The last ten years, which have been extremely successful, have spoiled investors. But it was also one of the longest bull markets. Everyone must realize that the party couldn't go on forever. It must also be clear that stock prices are not going to rise again like a rocket (at least not necessarily). I pointed out earlier here on the TEV blog that we are perhaps just at the beginning of a vast and very long bear market. In this respect, it could be that we are currently in the so-called blow-off phase and that the recent price rises were merely a trap for investors.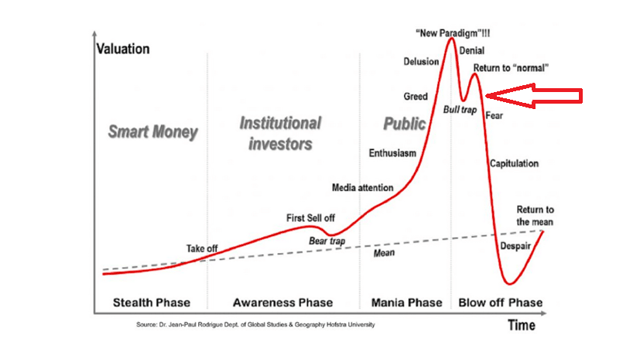 Another aspect I pointed out here on the TEV blog before, is the fact that investors are increasingly parking their money in so-called money-market funds. Money market funds are managed to maintain a highly stable asset base through liquid investments:
What you should do
So, what should you do now? Sell all your stocks? Buy gold and bury it? If you ask me how I do things and what my approach is, I can only say that all we experience are regular cycles in the stock markets. I, therefore, do not sell, even if companies lose value or reduce the dividend.
Studies prove you wrong
If I sell now because I think that the shares will fall even further, then I do market timing.  Years of studies prove the fact that most returns are lower when using market timing. So why should I make a bet with bad odds? Thanks, I pass…
Book losses are normal
When you invest in companies, you become their co-owner. This way, you bear all the losses of the company. Accordingly, it is normal that your company is worthless in bad times than in good times. But this is no reason to sell your company. Many companies that have turned investors into millionaires or even billionaires have already suffered more than 50 percent losses in one day.
–> (Click Here For More Stocks That Crashed Badly Before They Brought Wealth And Prosperity) <–
Buy quality when the stock market crashes
If you are a long term investor, continue to buy quality stocks with money that you definitely won't need in the next 5 to 10 years. I have made several purchases of good companies in the last few weeks. Several of these companies are dividend aristocrats that have increased their payout every year for at least 25 years. Even in the current phase, most of them will probably not reduce their dividend payouts.
–> (Click Here For Three Defensive Stocks For Your Portfolio) <–
So why should I sell? These companies provide me with cash flow every month, which I can reinvest.
Diversify your portfolio
I use this time, and diligently buy good and established companies that pay a good dividend. The market is currently presenting many companies to you on a silver plate. General Mills, for example, is another company with a conservative business model and a dividend yield above 3 percent. If you diversify your portfolio broadly, you can smooth out the risk and volatility quite well. You can then earn an excellent return over several years. Just look at the picture below, which shows the performance on individual asset classes and also takes into account the major recession ten years ago.

Stock losses today: Stay calm
So if the new stock price losses unsettle you, all I can tell you is: Stay calm and think about exactly why you want to sell your shares. Maybe you'll even buy a few more quality companies. At least that's what I do. Whatever you decide to do,
all the best!
TEV
---
---
Did you like the article? Click here for more and stay tuned for the following content… It is all entirely for free! Enjoy!
If you don't want to miss any new articles, you can easily follow me on
or Twitter.
---
---
Sharing Is Caring
Your thoughts are too valuable to keep them to yourself. Make them available to the world and the community by sharing them with us. All you have to do is leave a comment after reading the posts on the blog. Just use clear writing and clear thoughts.