FAANG stocks such as the Alphabet stock were and still seem to be a guarantee for impressive price gains. You would have achieved a 20 percent annual price gain with Google's parent company since 2004. Although this does not quite match the rocket-like Amazon stock with regular price gains of more than 30 percent per year, Alphabet is still one of those companies that you should have bought when they went public.
---
If you don't want to miss any new articles or analysis, you can easily follow me on
or Twitter.
---
Of course, after years of increasing stock prices, the question may arise as to whether the Alphabet stock is still a buy. To help you with your decision, we look at the company's long-term profit growth and the looming threats that could put an end to this success story. And, of course, we explicitly address Alphabet's fundamental valuation because one thing is for sure, even a quality stock can be overvalued.
How Alphabet generates money
Alphabet divides its business into the two segments "Google" and "Other Bets".
The "Google" segment – a multi-sector store
The "Google" segment includes the established and widely known core products of Alphabet. These cover, in particular, Google Search, which is omnipresent on the Internet, the navigation service Google Maps, and the YouTube platform, all of which generate revenue through advertising. Apart from advertising, Alphabet continues to earn money with the Google Cloud and the "Google Play" app store. The Android operating system for smartphones and tablets, on the other hand, does not generate direct revenues. Alphabet also develops and sells hardware such as the Pixelbook (laptop) or the pixel smartphones and products for the connected home with its Google Nest products (cameras, doorbells, smart speakers). The Google segment resembles a general store of various services and products from software and hardware.
It is important to note that Alphabet generates 83 percent of its consolidated revenues with advertising. The Google cloud accounts for 6 percent of revenue and 11 percent comes from fees from app sales, premium memberships, or hardware sales.
Despite its focus on the advertising business, Alphabet is interesting because many of its products occupy market-leading positions. Their search engine has a worldwide market share of over 90 percent. Alphabet also dominates the market for mobile operating systems with Android and has a market share of almost 75 percent. Although Android does not generate direct revenues, Android serves as a platform for paid services such as the Play Store. Besides, mobile phone manufacturers pay money to install Google software, such as the so-called Google Mobile Services. Without the market-leading position of Android, these revenues would not exist.
Advertising revenues are increasing by about 20 percent annually. On the other hand, Alphabet's cloud revenues will increase by a whopping 52 percent in 2019. Nevertheless, Alphabet is "only" number three worldwide in the cloud business behind the absolute market leaders Amazon and Microsoft. Given the strength of Amazon and Microsoft, it seems unlikely that Alphabet will overtake its major competitors in the cloud business.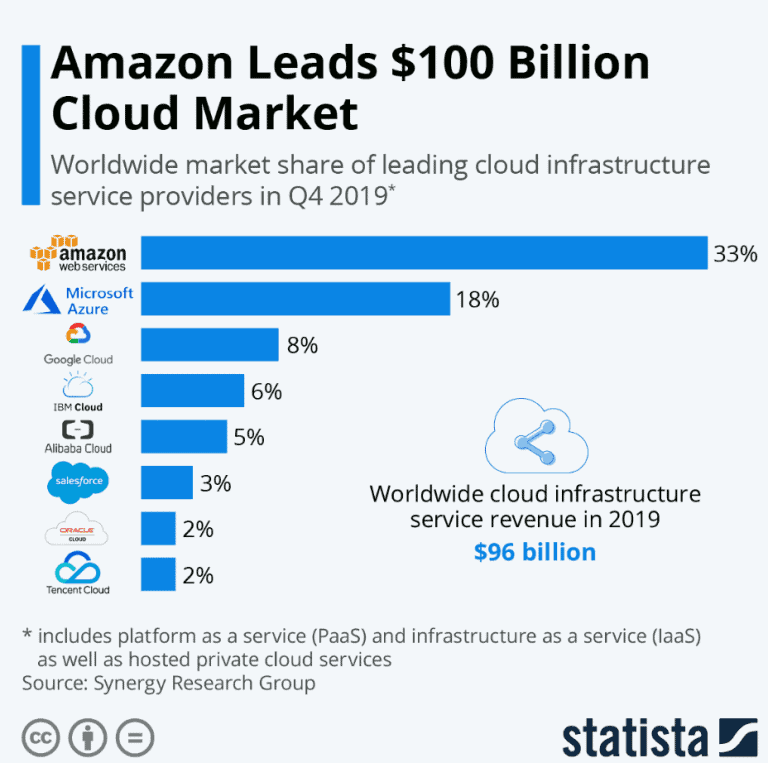 The segment "Other Bets" – Alphabet's Start-Up Incubator
The segment "Other Bets" is Alphabet's experimental laboratory. Here, start-ups are run as subsidiaries, whose turnover hardly plays a role yet, but which could be "the next big thing" in the future, the so-called "moonshot". In about 90 percent of cases, however, a start-up is a complete failure, and it can be assumed that Alphabet's subsidiaries will behave similarly. The "Other Bets" segment is a notorious loss-maker. In 2019, a loss of USD 4.824 billion was made on revenues of USD 659 million.

Still, betting on the "next big thing" makes sense and that's how Alphabet sees it:
Many companies get comfortable doing what they have always done, making only incremental changes. This incrementalism leads to irrelevance over time, especially in technology, where change tends to be revolutionary, not evolutionary.
In order not to rest and rust, the company takes money in hand to try out promising concepts on paper in practice. Examples include the investment vehicle CapitalG, the research and development company  Calico, the company Access, which is setting up and providing fiber connections in the USA via Google Fiber , the research institute Verily, Waymo as a developer of autonomous robotic vehicles and the semi-secret subsidiary with the mysterious name X, which as a former research unit of Google is looking for ideas for a further potential "moon shots".
Alphabet's dependence on advertising
Alphabet, like Facebook, is trying to expand its revenue sources with the help of a growing product portfolio to solve its dependence on the advertising business. In this effort, Alphabet has an ace up its sleeve with the rapidly growing Google cloud business. Cloud revenues are currently increasing by 50 percent, while advertising revenues are growing by "only" just under 20 percent. I expect the market for cloud computing to continue to grow rapidly. In this respect, Alphabet merely needs to maintain its market share to reduce the share of advertising revenues in total Group revenues.
Alphabet may not yet have an ace up its sleeve with "Other bets", but it does have good cards in its hand. One promising business area is health services for the health care market. Here, Alphabet is heavily involved in research and development with its start-up subsidiaries Calico and Verily. Calico is looking for methods to halt the natural aging process. Verily has a much broader base. Here, research is conducted in several directions in parallel. For example, the company is looking for ways to make even better use of data in order to treat diseases faster and more effectively.
It has also developed a spoon that makes it easier for patients suffering from tremors to eat. I expect Alphabet to position itself more aggressively in the rapidly growing health care market in the future. The planned merger of Alphabet and Fitbit is a good example. In November 2019, Alphabet and Fitbit entered into an agreement under which Alphabet will acquire Fitbit for $2.1 billion and integrate it into the Google segment. Fitbit is a manufacturer of so-called fitness trackers.
These are worn mainly like a watch on the arm and offer users the opportunity to record their training sessions and track their success. Depending on the model, the trackers log extensive data. Thus, the company can count steps and record other parameters such as heart rate and sleep quality. The acquisition gives Alphabet access to crucial patient data and a well-known brand that can serve as a core for building other healthcare services. Apple took a similar approach with the Apple Watch.
Alphabet has grown considerably in recent years. It has increased not only its sales but also its profits, which shows that it is operating profitably. The stock finder shows you that the Corona pandemic has not left Alphabet's revenue unaffected. The advertising business was hit particularly hard in March. Despite this, Alphabet managed to grow by a strong 13 percent in the first quarter, continuing the previous years.
Responsible for the more substantial than expected growth was January and February, which were not affected by Corona, and the increasingly noticeable diversification of the portfolio. With its growth, the cloud, in particular, was able to compensate the Corona-related revenue declines. The fact that the market sees the company today in a much better position than during the financial crisis of 2008 can be seen from the share price performance. At that time, the share price slumped by more than 60 percent, while the price losses during the corona crash were only half as high and had already recovered after a few months. Nevertheless, the corona crisis is by no means over. In the first quarter of 2020, only one month was significantly affected by the corona pandemic's effects. If advertising revenues were to collapse over a more extended period, this would result in significant losses in revenues and profits. CEO Sundar Pichai is, therefore, right to look to the near future with caution.
As a result, earnings and cash flow are likely to decline in 2020 as a whole and only rise again in the following years, provided the corona crisis is over by then. Despite the headwind, however, Alphabet is and remains highly profitable. The historical earnings trend is impressive in any case. Earnings per share rose from $0.73 in 2004 to almost $50 in 2019.
A downer, however, is the development of margins. High investments and the loss-making "Other Bets" segment are eroding the profit margin. Moreover, many business areas such as YouTube are inherently less profitable than the traditional advertising business with the search engine Google. I don't expect Alphabet's margins to rise again in the medium term, but instead to settle at current levels.

Is the Alphabet stock fairly valued?
As already mentioned, the Alphabet stock performed outstandingly well despite the burdens in the advertising market. As a result, the current seems to be again significantly overvalued. It is almost irrelevant what period we look at. Based on the historical profit and cash flow data, there is always a short-term setback potential of more than 20 percent at the current fair value. Only at the end of next year or the beginning of 2022, in the event of a stagnating share price performance, is it likely that the operating business will have caught up with the lofty valuation.
However, you don't need to worry about Alphabet's financial stability. The debt ratio is very low, at 25.51 percent. Furthermore, Alphabet is sitting on a massive mountain of cash of $117 billion, which could trigger an avalanche of money that would bury all $70 billion in debt.

Is Alphabet the next candidate for a break-off?
Concerning a possible break-up, Alphabet is exposed to the same threats as Amazon and Facebook, for example, whose chairmen had to face a hearing in the US Congress on potential market abuse in different ways. As you would expect from a FANG share, Alphabet is also under general suspicion of market abuse and has been fined more than any other company for antitrust violations. Besides, the twitter-happy US President has already criticized the company and its strong market position on several occasions and has thought aloud about the consequences. Regardless of this criticism, it is worth noting that Alphabet's subsidiaries already operate independently. In the worst case of a break-up, the subsidiaries with an already viable business model could operate successfully in the marketplace once they are separated. Such a scenario is not necessarily a disadvantage for investors, as you can see, for example, from the very successful development of the former eBay subsidiary Paypal.
The latest quarter numbers: Advertising sales slump by 8 percent
According to the latest numbers for the second quarter of 2020, advertising revenues have slumped by 8 percent. Due to the corona pandemic, many companies have cut their advertising budget for the Google search engine. Parallel to Alphabet, Facebook has also published its quarterly figures. Facebook also makes the majority of its turnover from advertising. Both companies together share more than half of the advertising budget in the USA. However, while Alphabet's advertising revenue fell by 8 percent, Facebook's advertising revenue increased by 10 percent over the same period. Advertising via social channels such as Facebook or Instagram seems to be doing much better in the current crisis than advertising via a rather impersonal search engine like Google.
Away from advertising, Alphabet was able to increase its revenue from the Google cloud "as usual" by almost 50 percent, while revenues from "Other Bets" fell by USD 14 million compared to the same quarter last year, with losses that increased by USD 127 million to USD 1.1 billion despite lower revenues. Overall, Alphabet had a rather disappointing quarter from our perspective.
Conclusion: Alphabet stock is not a buy for us right now
The Alphabet stock continues to benefit from the absolute dominance of the Google search engine in the Western world. This dominance is expected to remain in place for the coming years and guarantee reliable cash flows. Furthermore, Alphabet continues to benefit from the strong cloud business. It cherishes and maintains several promising subsidiaries and can draw on its cash reserves at any time to buy external growth and compensate for possible failures in its "other bets" segment, which means that not every start-up bet has to ignite for Alphabet to continue its upward trend. However, the coronavirus is currently slowing advertising revenues and will remain an uncertainty factor as long as it continues to weigh on the global economy. The high valuation and the risk of further antitrust measures such as fines or even a break-off may also weigh on the share price.
---
Did you like the article? Stay tuned for the following content… It is all entirely for free! Enjoy!
If you don't want to miss any new articles, you can easily follow me on
or Twitter.
---
---
Sharing Is Caring
Your thoughts are too valuable to keep them to yourself. Make them available to the world and the community by sharing them with us. All you have to do is leave a comment after reading the posts on the blog. Just use clear writing and clear thoughts.